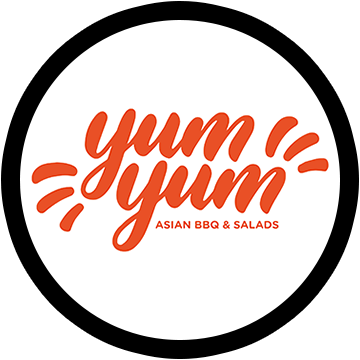 Yum Yum
ASIAN BBQ & SALADS
From the humble satay skewer to barbecued ribs, to abundant salads and rainbow-like desserts. They all speak volumes about the diverse culinary culture of Southeast Asia street food and Yum Yum delivers a taste to Spice Alley.
Satay is a Southeast Asian dish of seasoned, skewered and grilled meat, served with a sauce that has spread and been adapted by local cooks in all corners of Southeast Asia. From the rich, pungent flavour of Muu Satay from Thailand made with coconut milk and fish sauce to the spiced seasoning in Satay Ayam of Malaysia, with ginger, fennel or coriander.
The scent of the grill is iconic of street food – discover other grilled classics such as Spiced Pork Ribs, BBQ Chicken with tamarind curry and more. Accompanied by an array of salads from light and fragrant, sweet and sour to meaty and umami, the perfect main or side to your grilled options.
Yum Yum also likes to go sweet with classic Southeast Asia desserts in the style of Mango or Coconut Ice cream with sticky rice and cream coconut condensed milk, and more.
Follow the scent of the grill and discover Yum Yum located in Spice Alley.
FAVOURITES
• Muu Satay
• BBQ Chicken with tamarind curry
• Mango Ice cream with sticky rice