Back in 2016,
Vogue
named us as one of their top 5 romantic venues… and we don't blame them. With deliciously fresh authentic Asian cuisine, romantic flowing lanterns and a casual, laid-back vibe, Spice Alley is the perfect place to take your potential boo on a first date. Here's what makes a date at Spice Alley so special.
1. A variety of delicious Asian cuisines to choose from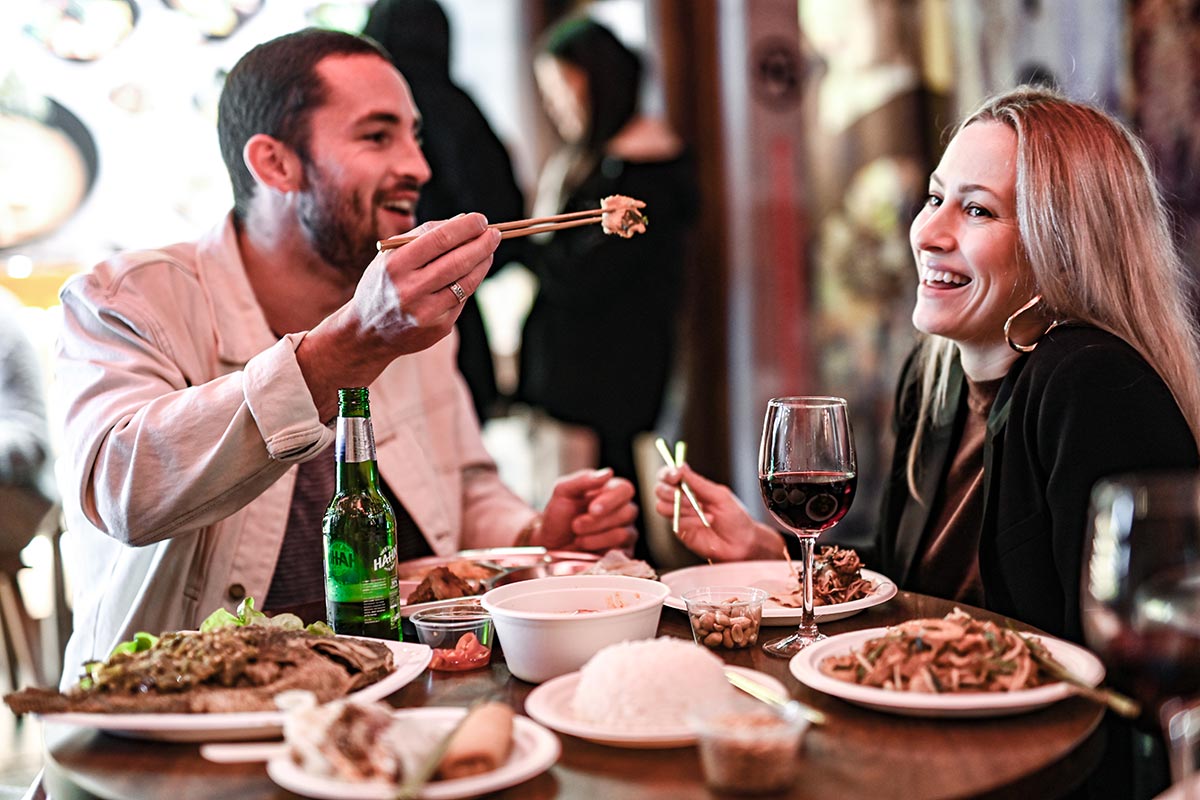 Ordering food on a first date can sometimes be a nerve-wracking experience, but we're here to make it easy for you. From the Singaporean curries at Alex Lee Kitchen to the Japanese ramen at Kyoto, you and your date have tons of dining options to choose from. There's also vegetarian, vegan and gluten-free options available, so you'll never have to miss out. Many of our dishes, like the finger-foods from Shanghai Dumpling Bar, are easy to share – so don't worry about getting too messy!
2. The vibrant street art and murals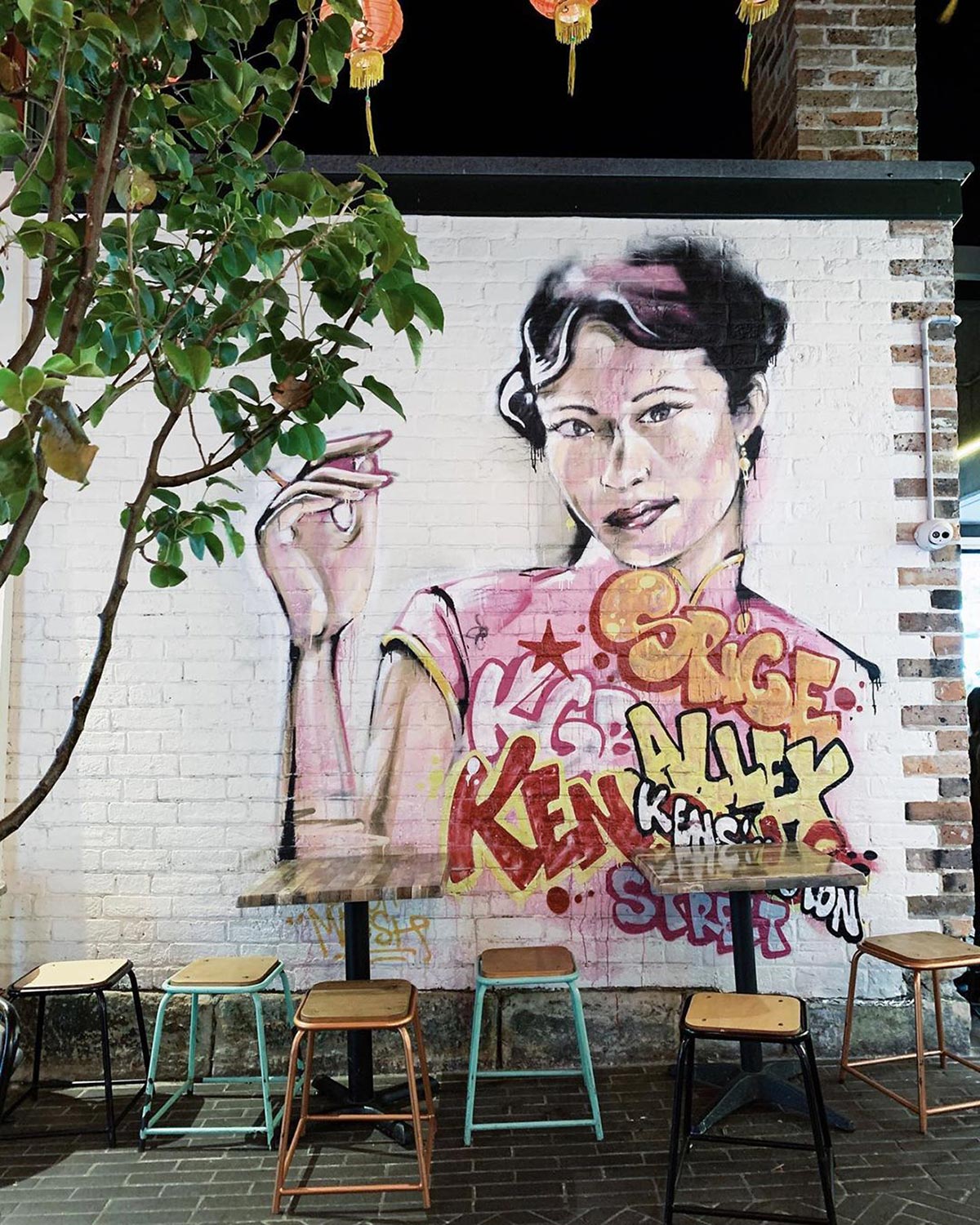 As you walk through our dimly-lit laneways (a great opportunity for hand-holding btw) you'll notice our brilliant murals. With additions from insanely-talented artists, including
Scott Marsh
and
Shepard Fairey
, the walls of Spice Alley are covered in stencilled graffiti-style art that reflects its Asian influence. With visuals of tuk tuks, Japanese geisha girls and a take on the famous woodblock print 'The Great Wave', you'll be immersed in the rich blend of art and culture. Brownie points to you if your date is an appreciator of the arts!
Image (@giuliawrites)
3. Asian-inspired decor that takes you on a journey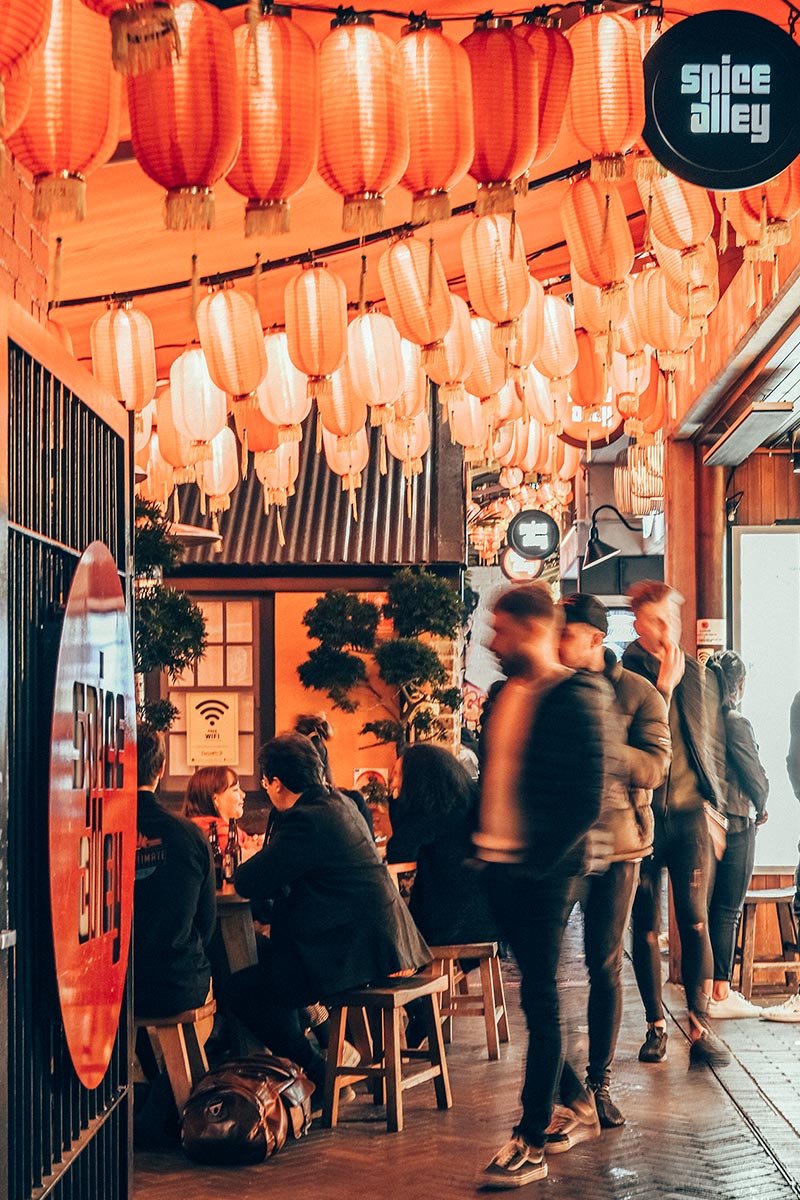 We won't lie, Spice Alley is simply beautiful to look at. Our Instagram-able nooks and laneways are perfect for that first date selfie (and maybe a pash, if you're lucky). Flowing strings of red and yellow lanterns not only set a romantic vibe, but they also represent happiness, vitality and wealth. They bring good luck, something we all want on a first date!
4. Our comfortable, laid-back ambience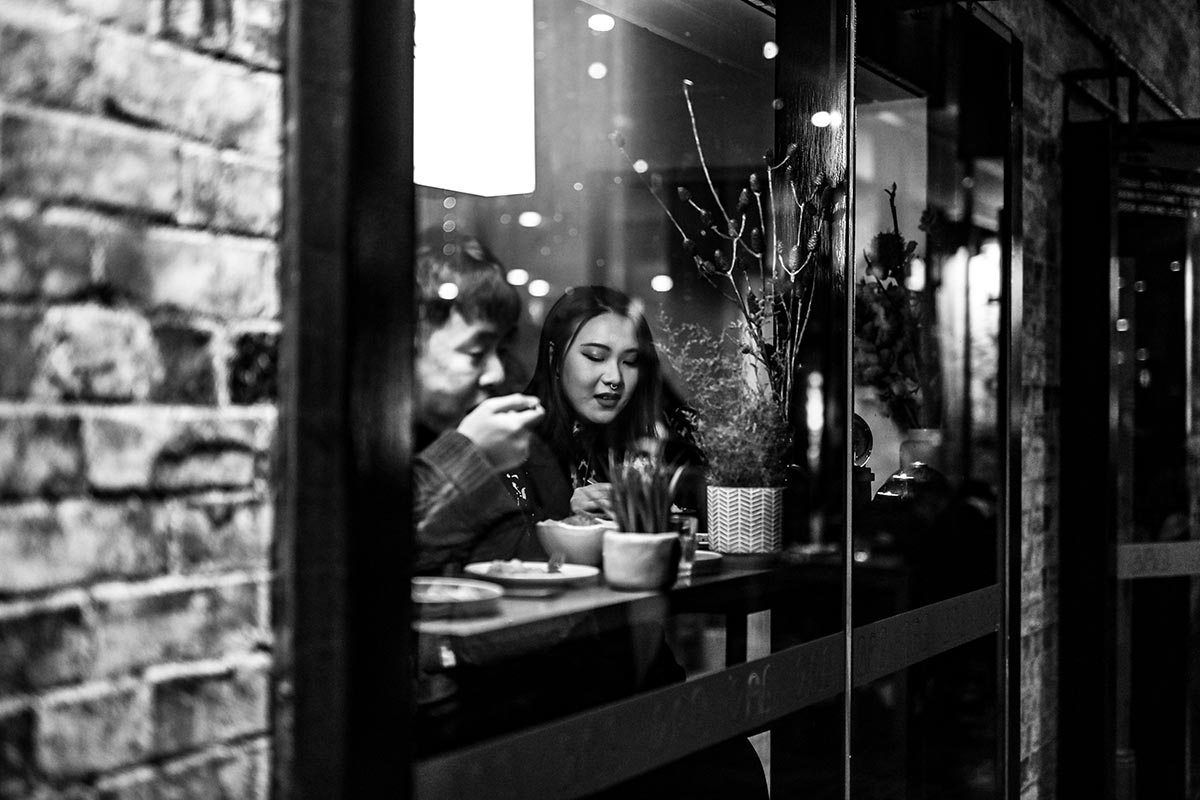 Do you get anxious and tense on first dates? Filled with the noises of chatty humans, frying woks and order numbers, the hustle and bustle of Spice Alley ensures that there's never a dull moment. With our pay at the counter set up there's no awkward reaching for the bill (phew), and you can even bring your pups along too! All you have to do is sit back and enjoy your meal in the fresh air of our courtyards.
5. The cultural experience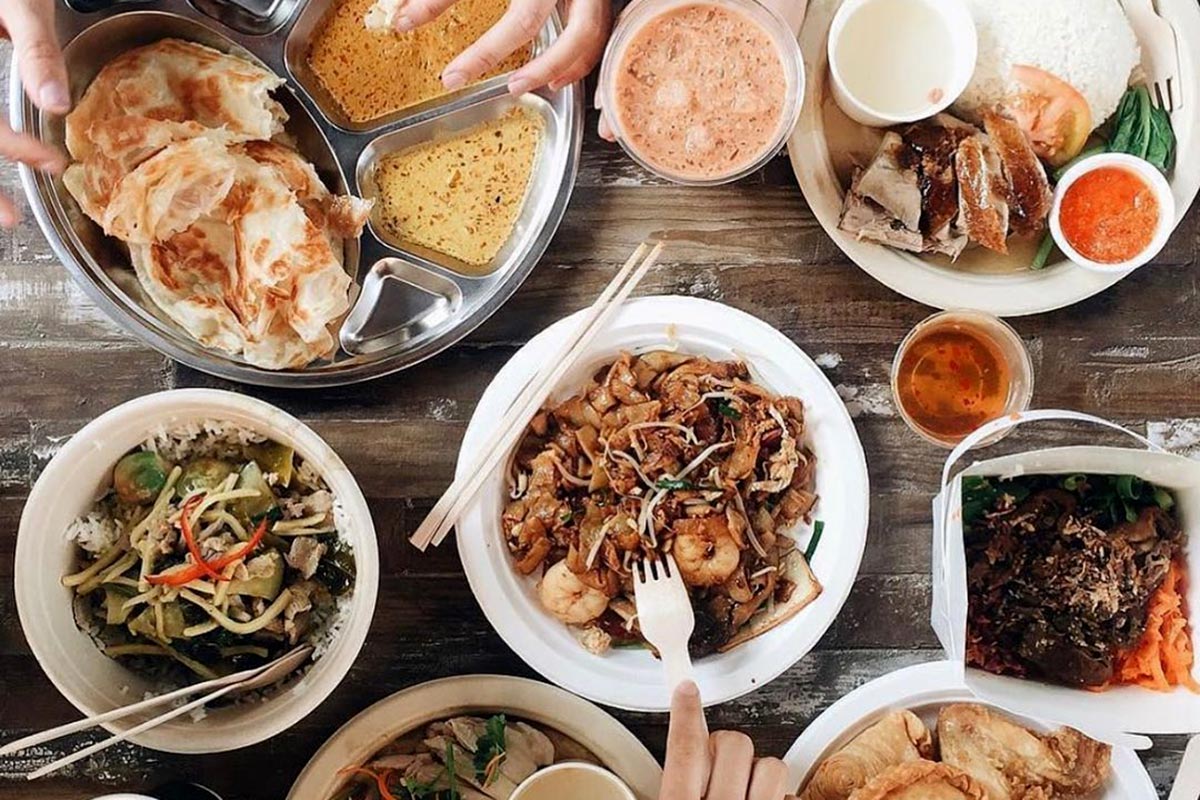 Asian cuisine travels far beyond fried rice and Singapore noodles… So why not try something new on date night? With a number of cuisines, including Malaysian, Indonesian and Vietnamese, there's a whole lot of opportunity to discover new flavours and textures. First date tip: why not order each other a surprise meal and bond over the experience of trying a new dish?
6. We've got free BYO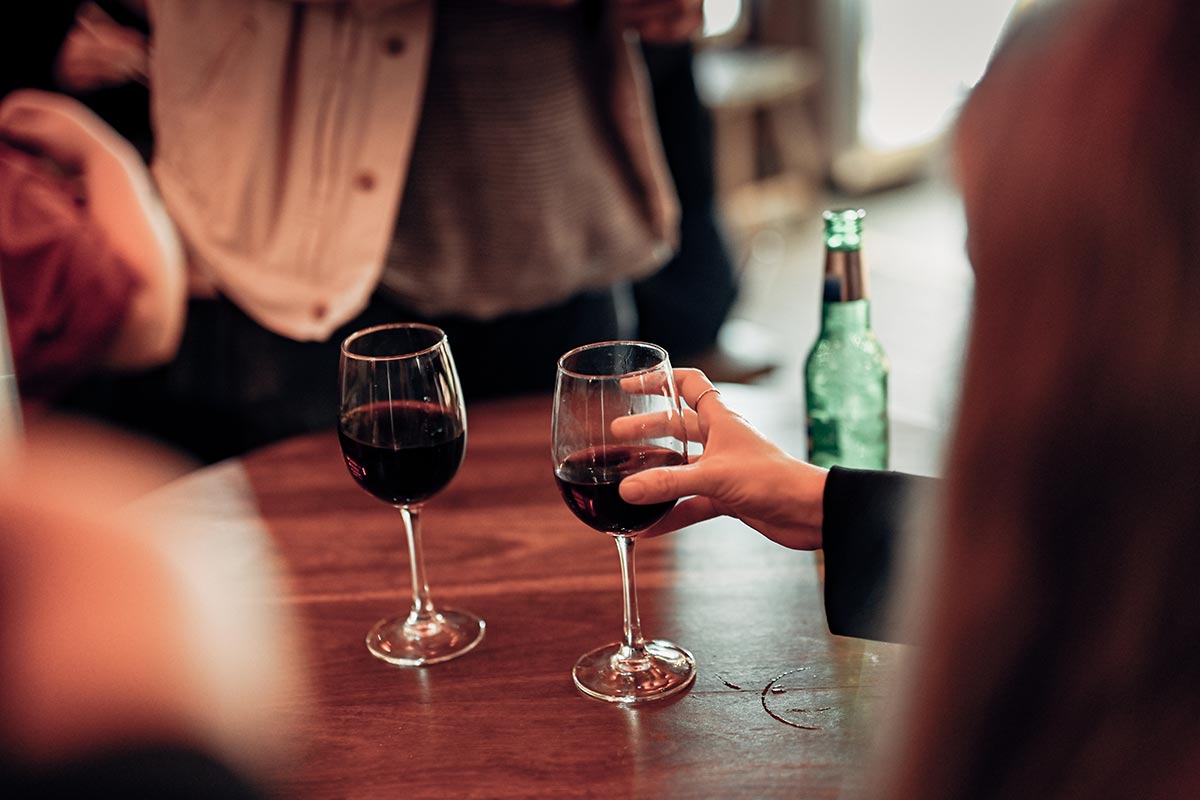 The best way to kill nerves on a first date is to get some vino into your system. Here at Spice Alley we offer free BYO on beer and wine, so you can impress your date with a glass of your favourite red or white. Handpicked Wines at the end of the street can assist you in choosing from their selection of award-winning wines, otherwise you can pick up some drinks from Red Bottle, located in Central Park mall.
With tantalizing dishes, super-cool street art and an air of mystery, Spice Alley is ready to show you and your date a great time, so bring a bottle of wine and dine in with us anytime. Note: if your date turns out to be a catfish, Spice Alley makes it easy to slip away into the night (pssst, you didn't hear this from us).
We're open from 11am until late every night, so you've got plenty of time to spend with your boo. We're only a seven-minute walk from Central Station, plus we offer free WiFi! To discover more, visit: spicealley.com.au